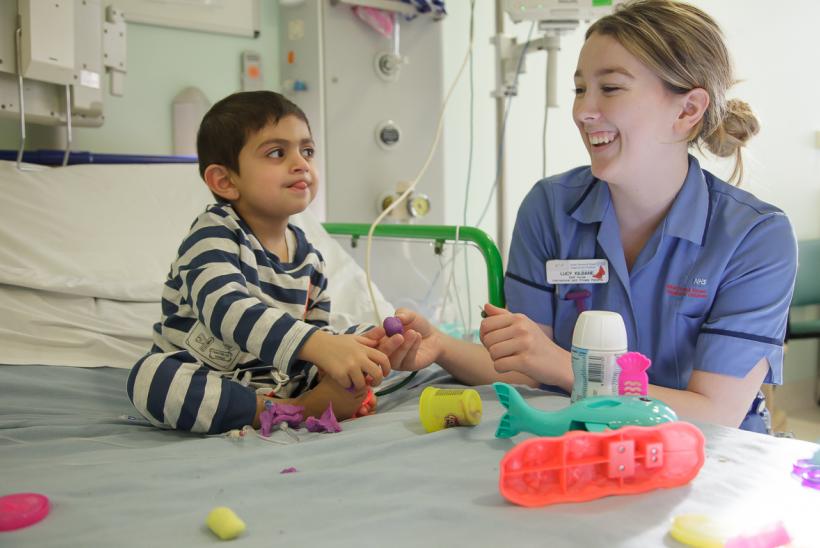 Our cancer and mixed-specialty wards will provide you with a unique clinical knowledge and an experience unrivalled across the UK.
We treat seriously ill children with rare and complex conditions. Our patients are seen either on our haematology and oncology ward or our mixed-specialty wards, which offers our staff a breadth of knowledge in specialist paediatrics. Our nursing team are able to gain a broad base of nursing care experience due to this unique environment.
Our families come from around the world, but we don't expect you to have experience working with international families. Our friendly and dedicated Practice Development Team will ensure you get the training and support you need to work with our families. We also have a dedicated in-house Arabic Interpreting team who are on hand to assist staff with interpreting needs.
GOSH by numbers 
Over
60
Clinical specialties and sub-specialties
We treat children with rare and complex conditions, and see patients under multiple specialities including craniofacial, haematology and oncology, respiratory, urology, neurology and neurosurgery, specialist neonatal and paediatric surgery, ENT and gene therapy.
We have
18
national services
We are the largest paediatric service in the UK for gene therapy, children's heart problems, cancer/leukaemia, bone marrow transplants, epilepsy and brain surgery, conjoined twins, Interventional Radiology, intensive care, craniofacial reconstruction and renal transplantation.
We have
3
wards and an outpatient department
We have over 50 beds across three wards, and an outpatient department called Caterpillar. Patients with a wide breadth of conditions are seen across our wards and outpatient department.
Governments pay for
82%
of our patient's care
We provide life-saving treatment for patients unable to undergo treatment in their home countries. The majority of our inpatients are from the Middle East and sponsored by their governments as specialist care is not available in their home countries.