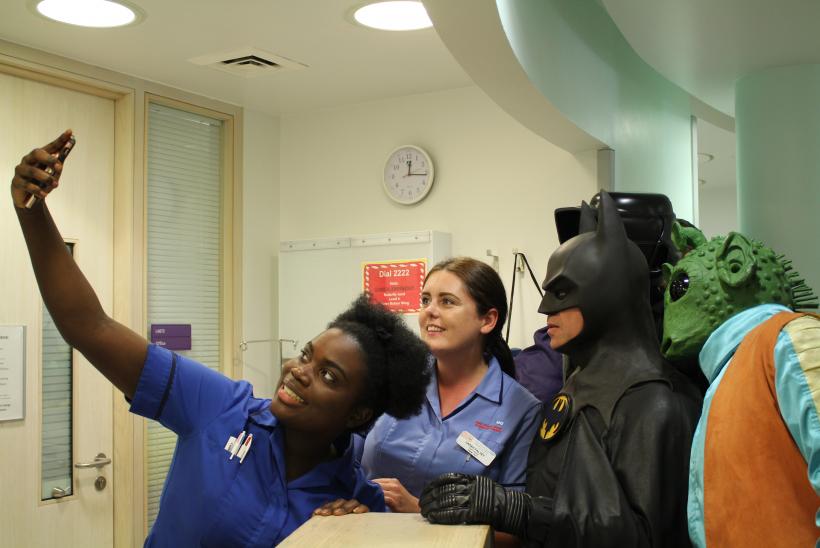 We work hard to ensure you maintain a healthy work-life balance, with on-site accommodation and a range of sport, social and support services available. The happiness and wellbeing of our staff is important and at GOSH we provide you with a comprehensive range of subsidised and free benefits.
We are proud to be part of the NHS and our staff are on NHS contracts. We are part of GOSH and our nurses experience all the same benefits as staff across the hospital.
We offer all our nurses NHS benefits including 27 days of holiday plus 8 bank holidays (with incremental rises after 5 and 10 years of service). We offer competitive salaries, with an annual pay review and incremental pay rises. We also offer extensive development and internal promotion schemes.
We offer our nurses inclusion in the NHS pension scheme and additional benefits such as accommodation support, interest-free season ticket loans, support for staff with dependants and a free on-site staff physiotherapist, subsidised message service and free counselling service.
For more information about how we can support your accommodation needs please click here.
The following are subsidised or free:
Interest-free season ticket loans

Help with childcare




For more information please see 'supporting staff with dependents' 

Help with finding accommodation

A staff counselling and advice service

A staff recognition scheme, in the form of a monthly and annual awards ceremony

A wide range of sports and social activities, including football and netball teams and other exercise classes

Culture Club




We have a vibrant enrichment program for staff, that provide activities and events including the GOSH choir, photography competition, tours of local areas, a walking club and free tickets to the opera, musicals and plays

Massage

Physiotherapy
We also provide our staff with the NHS pension scheme which is still regarded as one of the best in the country.
If you have childcare responsibilities, we subsidise a holiday play-scheme and offer an on-site nursery. We also offer childcare vouchers and employ a child and care co-ordinator to help you find the right childcare solutions for your needs.
We try to be as supportive as possible to staff who have particular needs at different stages in their careers. We recognise the needs of staff who have elderly, disabled or other dependents and offer them understanding, flexibility and support.
We also offer excellent arrangements for staff wanting to take maternity, paternity and adoption leave.
We strongly support staff in finding the right work-life balance, whether they have childcare commitments or for other reasons. The most important factor in deciding if we can support a request for flexible working is whether we can continue to deliver a high-quality service to our patients, our families and our staff.
Our staff work a wide range of patterns including annualised hours, term-time working, self-rostering, compressed hours, job shares and, of course, part-time working.
Our patients come from many different backgrounds and we think our hospital can only benefit by having staff who are equally diverse.
Our commitment to workforce diversity means much more than having policies and procedures. We take positive steps to help ensure that everyone who works at GOSH has the same chance to develop and is treated with the same level of respect.
We are genuinely committed to equality of opportunity in employment and encourage applications from all sections of the community.
We are a Positive About Disabled People "two tick" organisation and work very closely with our Occupational Health team and external bodies to give people with disabilities the support they need to work for us successfully.
We ask all applicants to tell us about their personal information to help us monitor our processes and ensure that we treat everyone fairly. This information is not seen or used by the shortlisting or selection panel.
We have several support forums and groups for our staff including our BAME Forum, Lesbian, Gay, Bisexual and Trans and Allies Forum, Muslim Forum and Women's Forum, who meet regularly and put on events.
We have a dedicated Chaplaincy Service who are available 24/7 for our staff of all faiths and none. GOSH has the only chaplaincy service in the NHS that is always on call. We have a Muslim Prayer Room, Quiet Room, Shabbat Room and Chapel that are always open for our staff and families.