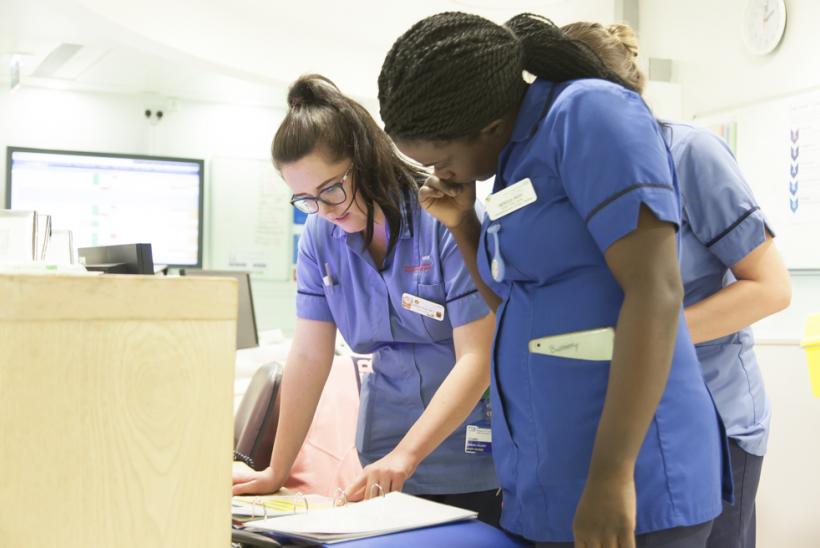 Please use our resource for frequently asked questions. If you have any questions that you can't find the answer for, please do not hesitate to contact us. 
We are always looking for Band 5 & 6 nurses. Please contact us directly if there are no current jobs advertised for nursing. 
You can see our vacancies here. This page will take you through to the NHS job website, which is where you need to apply to Great Ormond Street Hospital (GOSH). We only accept applications through the NHS job website.   
Please contact our Head of Nursing, Claudia (claudia.gomes@gosh.nhs.uk), if you have any questions or are interested in a role that is not advertised. We would love to hear from you!
There are excellent Underground, Overground and bus links to the hospital. Please visit our page Travelling to the hospital to view information on public transport routes. 
Staff who commute to work can take advantage of our interest-free season ticket loans to help spread the cost of travel. You could also choose to cycle and take advantage of the special cycle to work scheme which offers savings on your bike and safety equipment.
Great Ormond Street Hospital (GOSH) aspires to provide career development opportunities for all staff roles across the organisation.
Our portfolio of learning activities enables staff to acquire a breadth of knowledge and skills which supports them to deliver a safe, high quality and effective service to patients and families. Our learning activities also provide staff with the chance to develop their competence and confidence in forging a successful career.
To support our commitment to GOSH staff, we provide several initiatives including:
All new staff who join GOSH receive a comprehensive induction to the organisation, their department and their individual role.

A formal appraisal processes. Staff are appraised soon after joining, where objectives are set, and appropriate learning opportunities are identified. Appraisals occur annually, with regular informal catch-up sessions in between.

A study leave policy. This provides staff with the appropriate support so that professional qualifications can be obtained in a chosen clinical or non-clinical field.

A comprehensive portfolio of learning activities to help you meet your individual and professional goals.

An established and growing range of career pathways for all professions – medical, clinical, clinical support and non-clinical. We also provide a leadership and management pathway to complement technical skill development.
We work hard to ensure you maintain a healthy work-life balance, with on-site accommodation and a range of sport, social and support services available. The happiness and wellbeing of our staff is important and at GOSH we provide you with a comprehensive range of subsidised and free benefits.
We are proud to be part of the NHS and our staff are on NHS contracts. We offer all our nurses NHS benefits including 27 days of holiday plus 8 bank holidays (with incremental rises after 5 and 10 years of service). We offer competitive salaries, with an annual pay review and incremental pay rises. We also offer extensive development and internal promotion schemes.
We offer our nurses inclusion in the NHS pension scheme and additional benefits such as accommodation support, interest-free season ticket loans, support for staff with dependants and a free on-site staff physiotherapist, subsidised message service and free counselling service.
For more information please visit our 'Supporting you' page.
Yes, you can! We are very happy for newly registered nurses to apply here. We have an annual intake of NRN in September and offer open days at the hospital in March and October. Please look out for more details on NHS jobs. 
No! 
We are proud to be part of the NHS and all our staff are on NHS contracts. We offer all our nurses NHS benefits including 27 days of holiday plus 8 bank holidays (with incremental rises after 5 and 10 years of service).
We see more than 4,000 patients from over 80 countries. Over 1,000 of these were inpatients. 
Most of our inpatients are from the Middle East, and some of our families may know little or no English. Due to this, our wards are staffed with an experienced in-house team of Arabic Interpreters who work 365 days a year. 
They are there to facilitate your care of patients and work seamlessly with healthcare professionals. 
If you know any other language that may be beneficial to your work, but it is not a requirement!
We provide all our staff with the NHS pension scheme which is still regarded as one of the best in the country.
Yes! We welcome staff from all around the world!
If you are a citizen from a country that is not part of the European Union, we recommend that you contact our recruitment team as soon as possible to learn more about getting a visa and working within the UK. 
Please be aware to work in nursing in the UK you require an NMC pin. We do welcome nurses from around the world, but please be aware that there is a lengthy process to gaining this. Please contact us for information about this process and how we can help you. 
If you have any questions about this, please email our recruitment team on recruitment@gosh.nhs.uk   
All our staff require a DBS check to work here, especially as we work with very sick and vulnerable children. If you have a conviction related to children, you will not be able to work for the hospital. 
The presence of a conviction will not necessarily mean that employment is not offered - we will consider the type of offence, the nature of the vacancy applied and all other relevant criteria.  
For further information on criminal records and employment please contact our Human Resources Directorate on 020 7829 7925 or visit the Disclosure & Barring Service pages of the Home Office website.  
If you have any questions, please contact recruitment@gosh.nhs.uk 
We have a dedicated Volunteer Services team at GOSH and have over 100 different volunteer roles in the hospital. We have a team of over 1,100 volunteers that collectively provide more than 3,500 hours of their time every week.  
We would be very interested in hearing from you, but please be aware that in order to volunteer at GOSH you must be willing to volunteer for at least one year and the position is subject to a DBS check, as well as references, occupational health and training.  
For more information and more of the roles that are available, please visit the Volunteer Services page on the NHS hospital website. If you are interested in a role that doesn't exist, or in working exclusively within IPP, please contact the Volunteer Services team directly on volunteer@gosh.nhs.uk