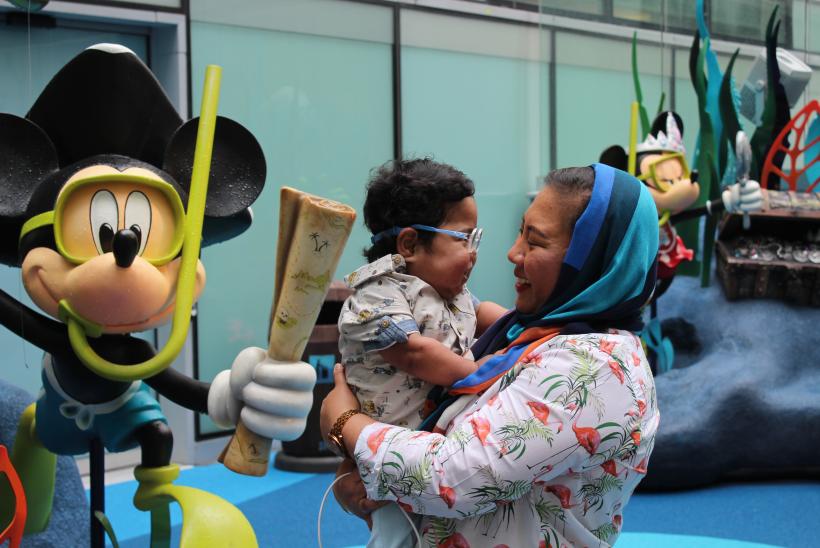 Morgan Stanley Garden
In 2016, a very special garden was opened at Great Ormond Street Hospital (GOSH). The Morgan Stanley Garden provides a quiet, reflective space for families and patients away from the wards and the bustle of our central London location.
The garden can be accessed through Medical Illustrations on Level 2 of the Southwood Building, by the school. The garden is overlooked by Hedgehog Ward.
Chris Beardshaw, the garden's designer, said: "This project is one of the most significant and poignant gardens of my career and I feel fortunate to be able to partner with Morgan Stanley in creating what will be a lasting legacy for parents and families of the children who will be treated at GOSH now and in the future. I hope the garden will provide a reflective and restorative space for those who use it and provide a nurturing world away from its urban surroundings."
Disney Reef
The Disney Reef, positioned in the heart of the hospital, was designed by Walt Disney Imagineers, in collaboration with the hospital's dedicated Play Team and patients. 
It brings together special lights and sensory elements, as well as Disney favourites Mickey Mouse and Goofy, Ariel from The Little Mermaid and Hank from Finding Dory - all sculptured specifically for the Reef. 
Coram's Fields
Less than a five-minute walk from the Octav Botnar Wing is Coram's Fields, a large public play area for children under 16 years old. Adults can only enter the area when accompanied by a child. It is open every day from 9am until dusk.
Coram's Fields has lots of play equipment, farm animals, and activities during school holidays. Please check with a member of child's medical team whether it is advisable for your child to visit the areas with livestock.