Celebrating 10 years since GOSH attended the Olympics
12/08/2022
It has been 10 years since we were invited to take part in the London 2012 Summer Olympic games opening ceremony. Nine patients and three members of staff waved to the world as our logo and name lit up the Olympic stadium. 
We caught up with former patient, Lottie, and Play Specialist, Janet, who tell us about what it was like to be a part of the opening ceremony, and share where they are now. 
A trip of a lifetime
In 2012, GOSH Charity approached Janet, one of our Senior Play Specialists. They were helping to bring some staff and patients to the London Olympic Opening Ceremony – they asked would Janet be interested?
Janet joined nine patients and two other staff on the trip of a lifetime to the Olympic Stadium. One of those patients was 10-year-old Lottie, who had emergency surgery to remove a brain tumour of the cerebellum when she was seven-years-old.
It was all hush, hush, hush! I couldn't even tell my manager! We all got into a minibus parked right outside the hospital that read 'Great Ormond Street Hospital Olympic Opening Ceremony' – but somehow no one saw!

Janet, Senior Play Specialist at GOSH
They then arrived at the Olympic Park, where Danny Boyle introduced himself to the group.
Danny Boyle was lovely – I remember him saying to the children, 'You are the stars of the show'.

Janet
Stars of the show
During the opening ceremony Lottie, along with her peers and GOSH staff members stood on the tor and waved as the world watched. The stadium cheered as the hospital's name and logo was spelt out by beds.
Watch the 2012 Olympic opening ceremony here.
We had no idea we were going to get this moment to ourselves until they announced us as the special guests. The camera goes onto us as we stood on the hill and waved.
I wasn't too nervous, but I knew what we were doing was super important. We knew that we were representing all the children that couldn't be there for whatever reason, so we needed to do well.

Lottie, former GOSH patient
Making memories
One of the highlights for Lottie was meeting J.K. Rowling.  However, the most amazing part for Lottie was spending time with other patients.
A lot of children who spend time in hospitals grow up quite quickly because of the stressful situations, and it is rare to find people who have had those experiences and understand it.

Lottie
Janet recalls that her best memory, which made the experience complete for her, was when one of our patients wish came true when Usain Bolt waved at them just before the athlete's parade.
The young boy, he spotted the Jamaican flag, and he just took off towards it in excitement! He reached the gate and called out 'Jamacia!' as loud as he could. And there, at the front of the line, Usain Bolt turned and waved at this young boy.
I've got goosebumps just thinking about it, even after all these years.

Janet
Inspired by GOSH
After her surgery, Lottie began physiotherapy to help her with walking and balancing as the tumour had put pressure on her cerebellum which is involved in balance.
Inspired by her experience at GOSH, Lottie is now studying Physiotherapy (BSc), and hopes to specialise in paediatric physiotherapy.
It's difficult to explain that there is so much hope in children's hospitals. Even though they are going through the hardest times of their life, children continue to persevere.
I think that working with children is a joyous experience and even something so small as them getting them to use their favourite teddy in a physio exercise can bring them so much joy.
I had such support from people like my physios and my play specialists at what was the hardest point in my life, and I want to do that for other people.

Lottie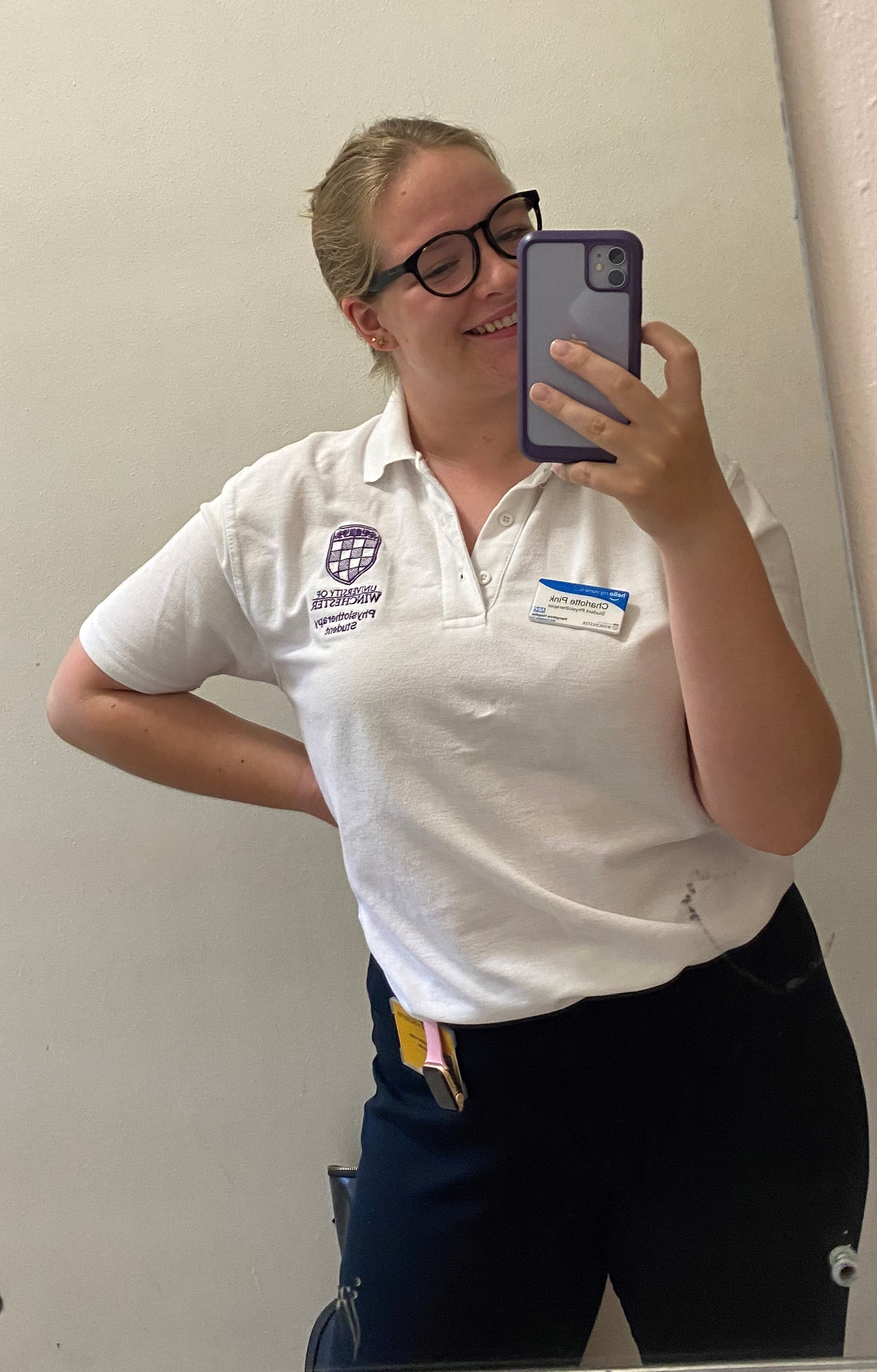 Lottie, a former Great Ormond Street Hospital patient, wearing her physiotherapist uniform.
Continuing to support GOSH patients
Janet has now worked at GOSH for 33 years, and continues to support children and young people throughout some of their most difficult times. On the cardiac wards she helped children cope with their illnesses through play and distraction and she currently works in radiology and outpatients.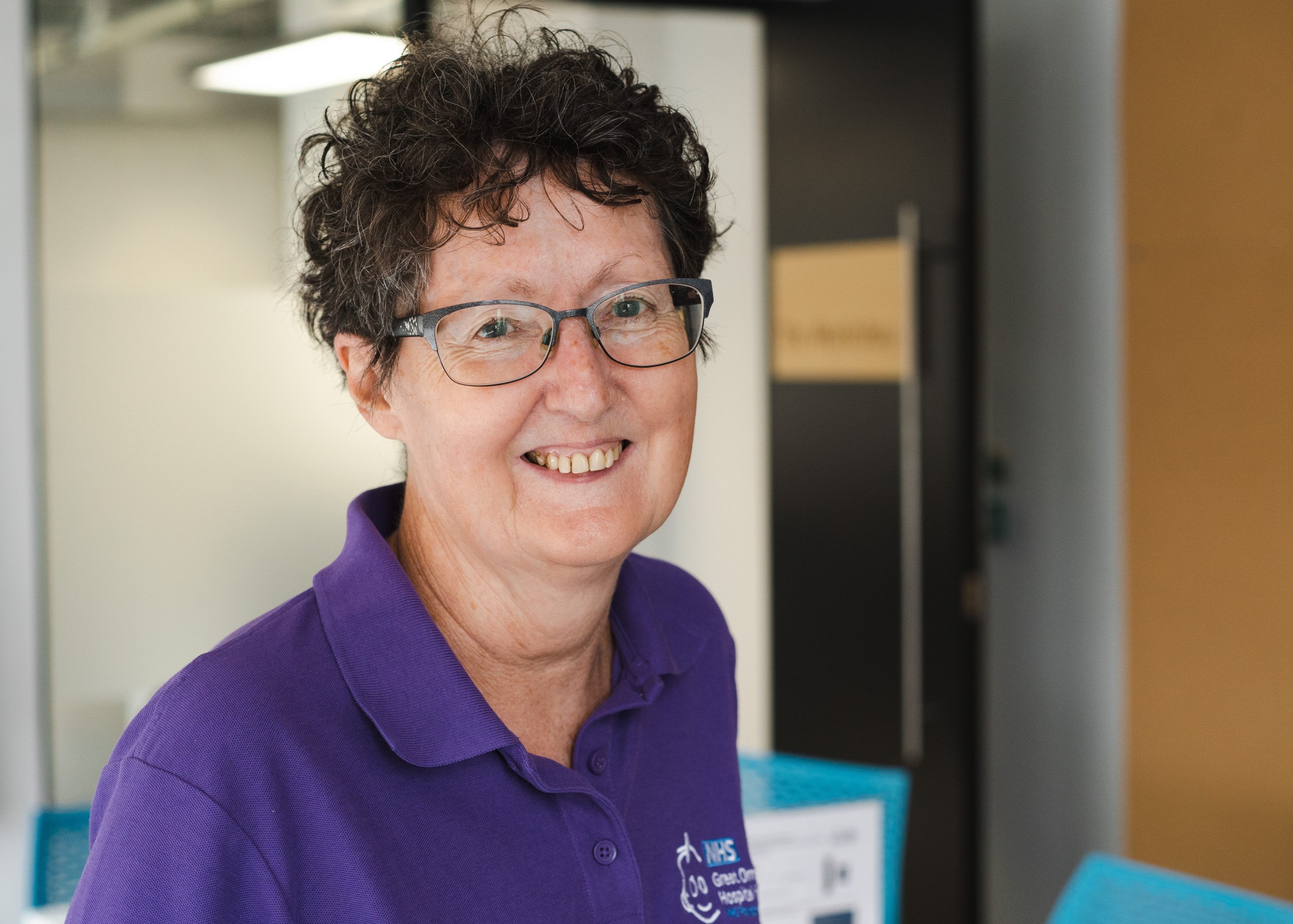 Janet, a Play Specialist at Great Ormond Street Hospital for 33 years.