The International and Private Care service at Great Ormond Street Hospital for Children (GOSH) is in the centre of London, close to the West End and City of London.
You may wish to discuss with your sponsor if they provide any transport arrangements for you. If you are making your own way to the hospital, we advise families to use public transport if you can. We are close to several mainline and underground stations and local bus routes.
Should you require help with booking transport to and from the hospital, one of our friendly staff members will be happy to provide you with the information and contact numbers of local companies. 

For more information please contact:

London office  
+44 (0)20 7762 6822
Gulf office
Gulfoffice@gosh.nhs.uk
+971 4 3624722
The London Underground – or 'tube' - is a public rapid transit system serving London and adjacent counties. There are 11 tube lines that cross the city in all directions. There are maps of the system in every station, or you can download one.  You can buy a single journey ticket, a day pass or get an 'Oyster card' which is the most economical way of paying for travel in London. You can also pay by contactless bank card.
London is also served by an extensive bus system. Buses are a cheap and convenient way of travelling through London with a view. The bus network covers all the city with a 24-hour service. Note that all buses in London are now cash-free, so you are only able to use a contactless payment card, Oyster card, or a previously purchased paper travelcard.

The Transport for London (TfL) Journey planner is useful; it allows you to plan your routes between stations, places of interest and postcodes. You can also specify your preferences for modes of transport (including walking and cycling) and accessibility requirements (such as step-free transport).
London's traditional taxis (black cabs) can be booked in advance, hailed on the street, or picked up from designated taxi ranks. The black cabs are disabled friendly, as they have access ramps to wheelchairs. Please click here for more information.
If you have mobility impairments and trouble using public transport, you may be able to get subsidised taxi and minicab travel in London. There are two schemes named Taxicard and Capital Call. Please click here for more information. 
GOSH is located in central London within easy reach of all London airports.
From London Heathrow Airport:
Take the London Underground ('tube') Piccadilly line (marked dark blue on tube maps) directly to Russell Square tube station. This is the closest Underground station to the hospital. The tube journey will take around an hour, and it is then a five-minute walk to GOSH. Please note Russell Square station has no disabled access.
Alternatively, you can take the Heathrow Express train to London Paddington station, which takes around 15 minutes. Then take a taxi to the hospital, which is around 20 minutes' drive away. A taxi from Heathrow directly to the hospital will take about an hour, depending on traffic.
From London Gatwick Airport:
Take the Gatwick Express train to London Victoria station and then either the London Underground to Russell Square, or a taxi to the hospital.
A taxi directly from London Gatwick will take around 1 hour 30 minutes.
If you choose to walk to GOSH, two London Underground stations are located near the hospital named Russell Square and Holborn stations. Several mainline train stations are also within walking distance, named Euston, Kings Cross, St Pancras, Waterloo and Charing Cross stations.
If you choose to walk, this map below might be useful: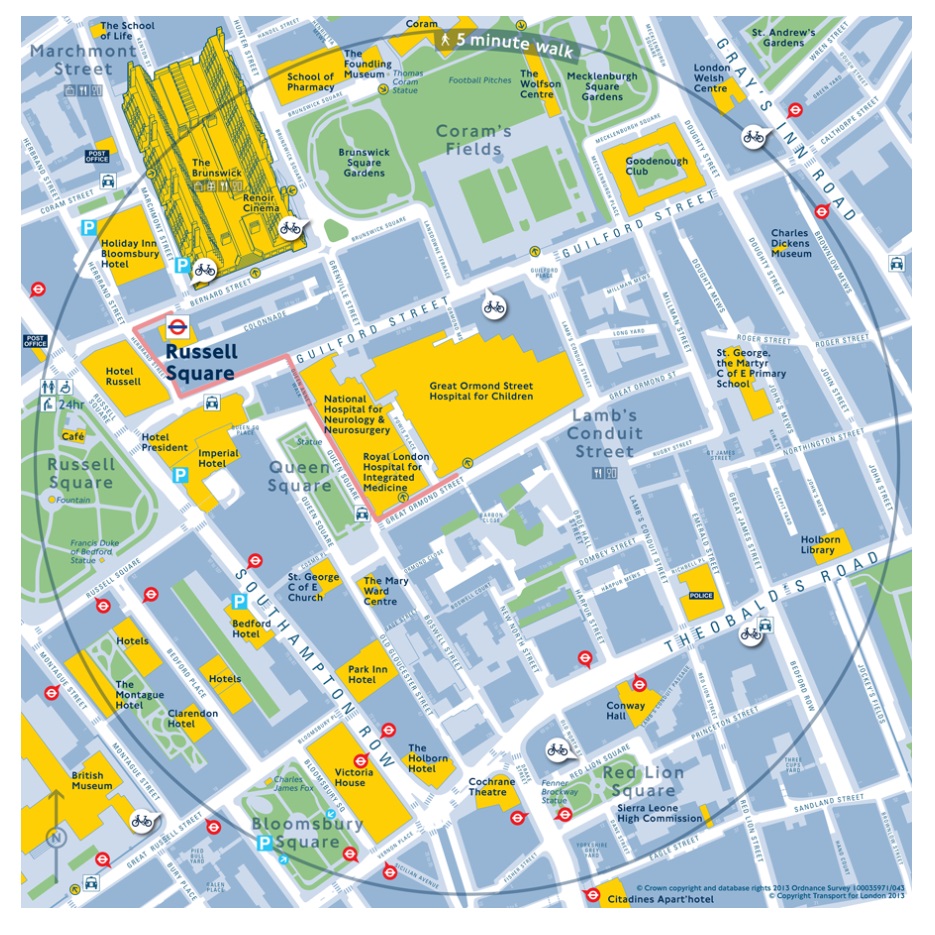 City mapper is a useful free app that will show you the local transport options, including walking, for getting around London.
You can download it for free on the Play Store (Android devices) or App Store (Apple devices). 
Russell Square station and Holborn stations may not be suitable for wheelchair users, as there are steps from these platforms. If you require step-free travel, it is best to walk, use the bus or get a taxi. All buses on all routes offer low-floor, wheelchair access.
At mainland stations, assistance is available for disabled passengers. It is best to give at least 24 hours' notice so that they can arrange this for you.
Non-emergency Medical Transport: We provide non-emergency medical transport where any other method of getting to and from GOSH would be damaging to the patient's health. If you contact us, we will help arrange this for you.
Planning your route
Great Ormond Street Hospital for Children
International and Private Care
The Harris International Patient Centre
Great Ormond Street
London
WC1N 3JH
Use the Google map below to plan your route