Catching up at Christmas: Maria's Story
21/12/2022
Christmas is fast approaching, at this special time of year, it is important to celebrate and appreciate those you love the most. This Christmas, we caught up with former patient Maria Determann and her family, an expat family living in Qatar.
Maria underwent surgery at Great Ormond Street Hospital (GOSH) in 2019 to remove congenital cataracts, a surgery that would change her life forever. At GOSH, we treat over 1,500 children from the Middle East every year for rare and complex conditions.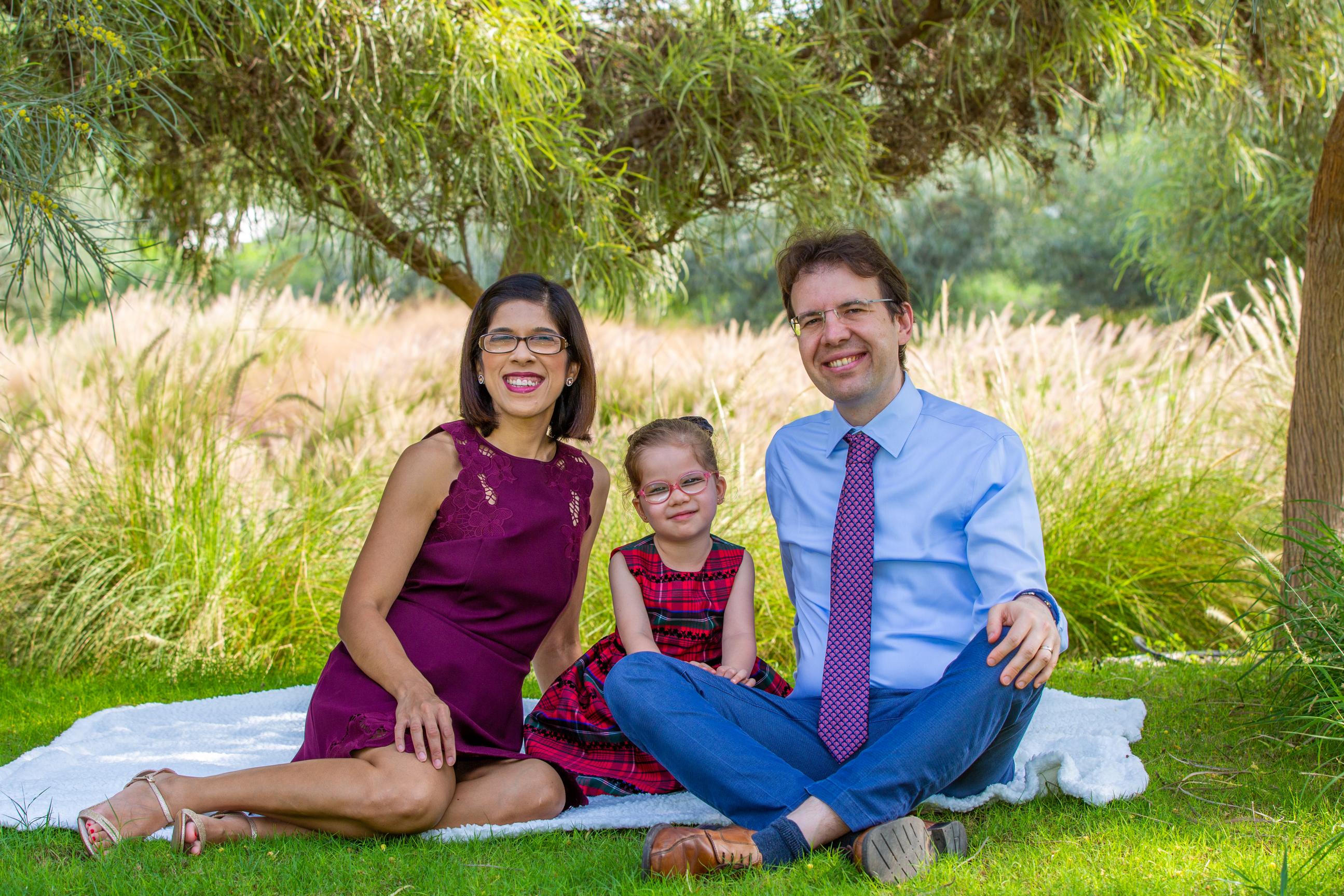 Maria's Journey to GOSH
Maria was diagnosed with congenital cataracts whilst she was still in the womb via ultrasound imaging. Her diagnosis was further confirmed by Paediatric Ophthalmologists after she was born in Qatar.
Congenital cataract is a rare condition where the lens of the eye is cloudy instead of clear at birth, impairing vision in one or both eyes. Her family were aware of the high likelihood that Maria may have the condition since it is hereditary in her family.
Maria required surgery within the first few weeks of birth to reduce the possibility of significant long-term vision problems.
We had researched the options for cataract surgery overseas and given GOSH's reputation, it made sense to have Maria's treatment completed there
Maria's mum, Jeanne
Maria underwent surgery in July 2019 and was treated by Dr William Moore, a Paediatric Ophthalmologist at GOSH. The surgery was successful and she was fitted with specific aphakic glasses afterwards to help improve her eyesight.
The family revisited GOSH in December 2019 for a follow-up appointment to check on Maria's progress post-surgery.
We were impressed with the speed and efficiency with which Maria's surgery was handled. Staff were kind, professional and most importantly, the medical care is second to none.

During the COVID-19 pandemic, the Paediatric Ophthalmology team supported us extensively with virtual consults and by sending us further pairs of Maria's aphakic glasses to Qatar, as her prescription could not be effectively handled locally.
Maria's mum, Jeanne
Maria Today
Now 3 years old, Maria is living a normal life. Her parents say she has a very busy schedule back home in Qatar. We spoke with Maria and her mother Jeanne over the holidays to get an update on Maria and to get their insight on what Christmas is like for an expat family in the Middle East.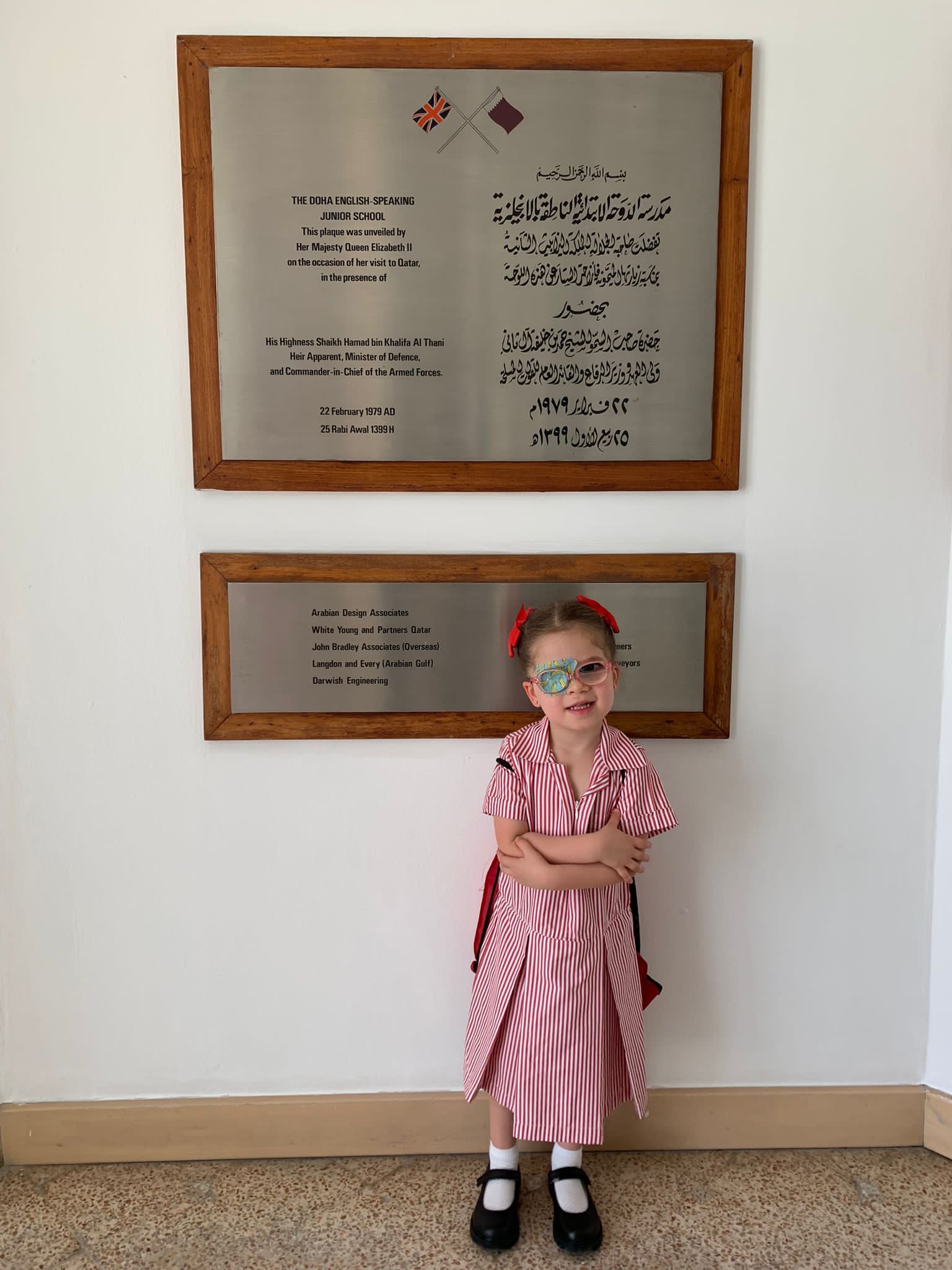 How is Maria doing now? 
Maria is now a precocious three-year-old and has just started school in Doha. She is very artistic and spends hours drawing by herself. She enjoys complex jigsaw puzzles and can complete ones of up to 60 or 70 pieces. She is learning to read and loves sounding out new words. Her development owes much to the excellent care and early visual intervention that she received at GOSH.
What are her favourite foods and hobbies?
Maria is an absolute foodie and will eat pretty much anything – from kimchi and sushi to a Sunday roast.
This Christmas  
Describe your experience celebrating Christmas as an expat in Qatar?
We love that Qatar is a multicultural and multi-faith country. Last year, we enjoyed Christmas in Qatar and hosted parties at home and attended a festive afternoon tea with Father Christmas. 
What are your tips for other expats living abroad on how to get into the Christmas spirit while living away from their home country?
Appreciate what your country has to offer. Christmas looks different everywhere and everyone celebrates differently! One of the best parts about being an expat is incorporating old and new traditions into your family's holiday.
Are there any traditions you incorporate from your cultures?
Last year, we spent part of the Christmas period in Austria with Maria's paternal grandparents. Maria enjoyed her first experience of snow and tobogganing through it. She also loved helping her Omi and Opi (Grandma and Grandpa) with baking Lebkuchen (gingerbread cookies) and Stollen (a fruit bread).
What are your Christmas plans this year?
This year, we will be spending Christmas with Maria's maternal grandparents in India. After having travel so heavily restricted by the pandemic, we are really excited to be able to celebrate the holidays with family.   
Maria, what is your favourite thing about the Christmas period?
Seeing the house decorated for Christmas and reading Christmas stories from around the world.
What is your favourite food to eat at this time of year?
Cake! Cookies! Mashed potatoes!
What did you ask Santa for this year?
I want a unicorn!
What is your New Year's wish?
Peace on Earth 
Jeanne are there any last words you would like to say?
We are grateful to all the doctors and nurses at GOSH. We are particularly thankful to Dr Will Moore, Maria's paediatric ophthalmologist, and Jess Gowing, Maria's dispensing optician.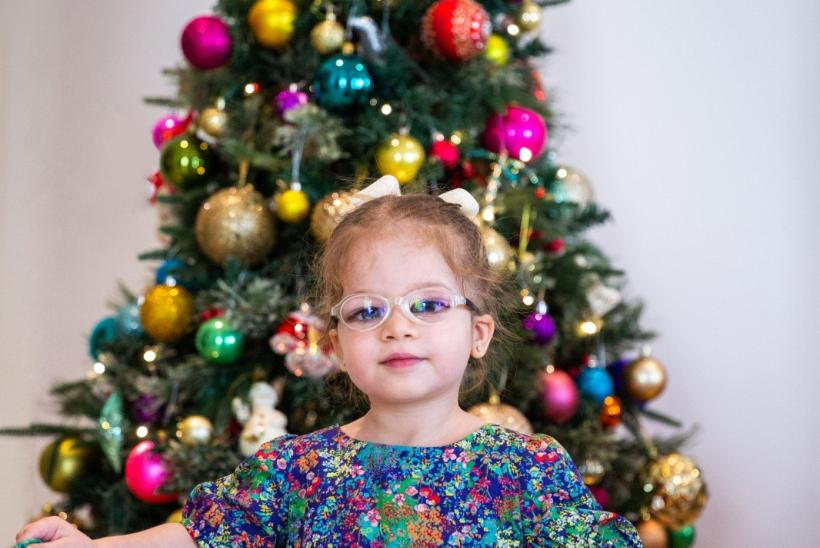 We would like to say a big thank you to the Determann family for providing us with a wonderful update on Maria. We also like to wish them and all readers season's greetings and a Happy New Year.