Lulu's Story: Battle with Cancer
Lujaina Hasanin (Lulu) is a 4-year-old child who has been diagnosed with T-cell lymphoblastic lymphoma, a rare aggressive blood cancer. Little Lulu resides in Dubai with her family and has been coming to GOSH for specialised treatment since November 2021.
Lulu's Diagnosis
Lulu was born in 2018 and is one of four children to Samy and Asmaa. Unfortunately, when Lulu was very young, both her younger and older sister at the time lost their lives in early infancy to unexplained conditions. Due to the passing of Lulu's siblings, their doctor in Dubai advised them to do regular check-ups on their other children in case of a genetic issue.
Early in her childhood, Lulu began having issues controlling her blood sugar levels. This prompted her family to attend her local hospital where they carried out genetic testing. "No one had the knowledge to state what was going on with her as all her genetic tests came back clear, suggesting she has no underlying conditions" says Samy, Lulu's Dad.
Although Lulu's family were anxious from the lack of clarity, they pushed for further investigation. Lulu's family received several second opinions but finding a clear diagnosis was challenging. During this time, Lulu developed more issues controlling her blood sugars.
Her family noticed that she started experiencing a dry cough and difficulty breathing in her sleep. Doctors in Dubai performed X-Rays and discovered a tumour in her chest. After six months of investigation, the tumour had migrated to her right lung and was compressing the airways. This explained Lulu's difficulty breathing. 
This was the start of her journey 
                                                                                          Samy, Lulu's Dad
Lulu commenced treatment immediately. During the first cycle of chemotherapy, Lulu became very unwell, not responding to treatment and losing most of her muscle strength. Doctors advised they would not continue treating her as the risk was too high, due to the severe side effects she had experienced from the treatment.
With their options exhausted, Lulu's parents didn't want to give up and knew they required a hospital overseas who would take on her special case and help fight her lymphoma.
Journey to GOSH
The global search began, the family was recommended two specialised cancer centre options, Great Ormond Street Hospital (GOSH) in the UK and a paediatric hospital in the US.
Lulu's family opted for GOSH due to the convenience of travelling from Dubai to the UK, as most flights are direct, and it would be faster for Lulu's family to come to London. Samy also works from home and has been working since Lulu's diagnosis, as he supports his family, so picking a hospital with a small-time difference was ideal.
I could work remotely to balance both work and life
                                                                                            Samy, Lulu's Dad
Lulu was transferred to GOSH International & Private Care in November 2021, during her stay, she was under the care of Dr David O'Connor, Haematology Consultant at GOSH. "She was predominantly under haematology but received input from the metabolic and neurology teams, due to the complex nature of the case"  explains Dr David O'Connor.
GOSH Experience
Her GOSH Team started her treatment with the standard UK protocol for treatment for acute lymphoblastic lymphoma which uses intensive chemotherapy. They reduced the doses of chemotherapy to avoid making her too sick. Unfortunately, "Lulu was incredibly sensitive to the chemotherapy and suffered quite severe side effects from the treatment" says Dr David O' Connor. Due to this, Lulu was then administered an oral form of chemotherapy as her body was too weak to continue standard chemotherapy.
Lulu now
Nearly two years later after the initial diagnosis "Lulu is recovering well since coming to GOSH and we expect her to complete treatment by the end of the year" says Dr David O'Connor. "She currently takes oral maintenance therapy. Her health has gotten considerably better since she finished the more intensive chemotherapy."
The aim of maintenance therapy is to prevent the cancer from coming back. For Lulu, this includes oral chemotherapy every day, and she comes back to GOSH every three months to receive a Lumbar Puncture with Intrathecal Chemotherapy Injection as this procedure is not yet available in Dubai. Whilst abroad, Lulu's family stays in direct contact with the GOSH team for any medical advice.
Lulu's doctors and nurses have been very helpful to be honest, I'm aware it was very challenging, as she was never a standard cancer patient. From the start to the end, we felt as though GOSH was the right place to be in and we were fully supported and in constant communication with her team. 
I am very grateful for the specialised doctors at GOSH that were willing to take on her case and provided excellent clinical care throughout.
                                                                                             Samy, Lulu's Dad
Exploring London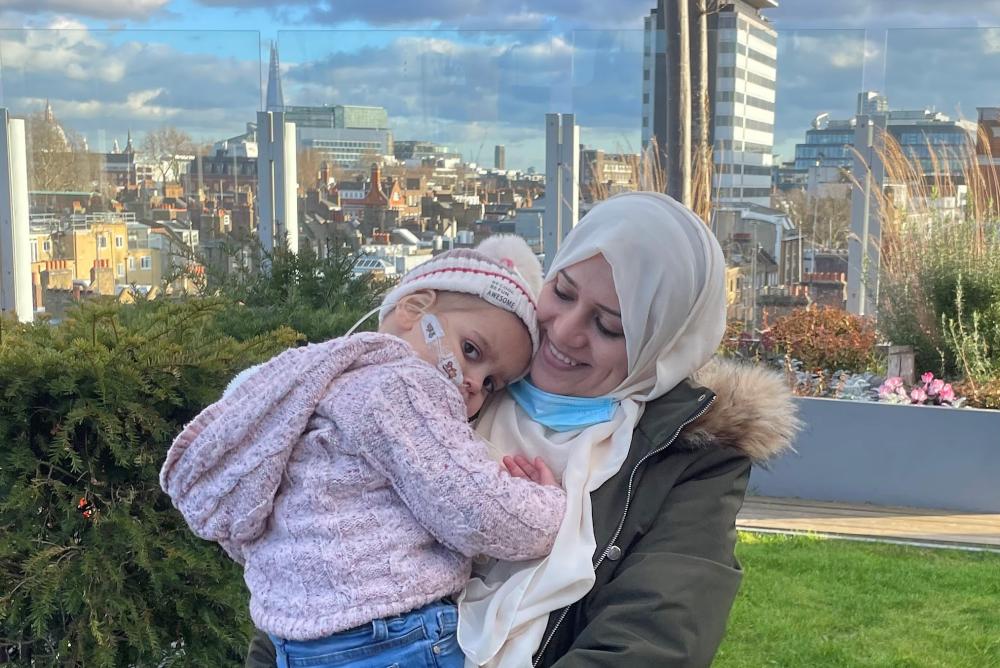 As Lulu makes regular trips to the UK, it is important that she is as comfortable as possible, as being away from home is not easy. 
At GOSH, Lulu loves the play team and the physiotherapists "they are special to her, and so smartly, she knows the different staff and teams from their uniform colours" Samy says.
Lulu has become a local to GOSH and likes to walk around in the local area. She particularly loves going to Brunswick Square for lunch anytime they were allowed out and would visit all the lovely gardens around the hospital. Samy explains "that getting out and about In London really changed the atmosphere for Lulu before she would have to go back to the hospital for the remaining medicine."
Lulu loved getting around on the underground and other things, we've never been on public transport as we have a car back in Dubai. But in the UK, she enjoyed the buses and trains.  
Her favourite place at the hospital was the rooftop garden, where me and her could get some fresh air and see the wide variety of plants. 
                                                                                              Samy, Lulu's Dad
Being Lulu's support system has been a big change for her and her family's lives during this difficult period. Despite this, they have remained positive in her presence and have always given her hope. With the cancer now in remission, the family are keen to share their experiences in the hope of helping other families in a similar position.
Thanks to the specialised treatment available through GOSH, Lulu is becoming herself again. If there is anything we've learnt from this very hard journey it's to take one day at a time. 
                                                                                              Samy, Lulu's Dad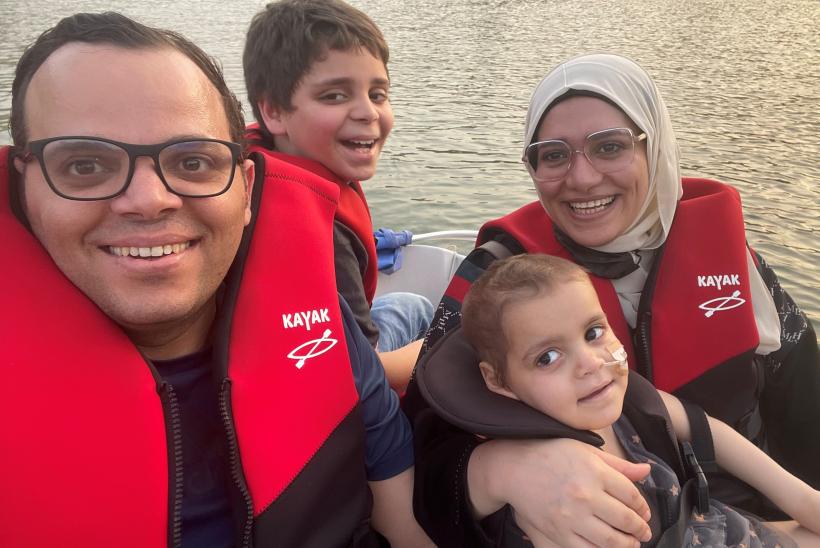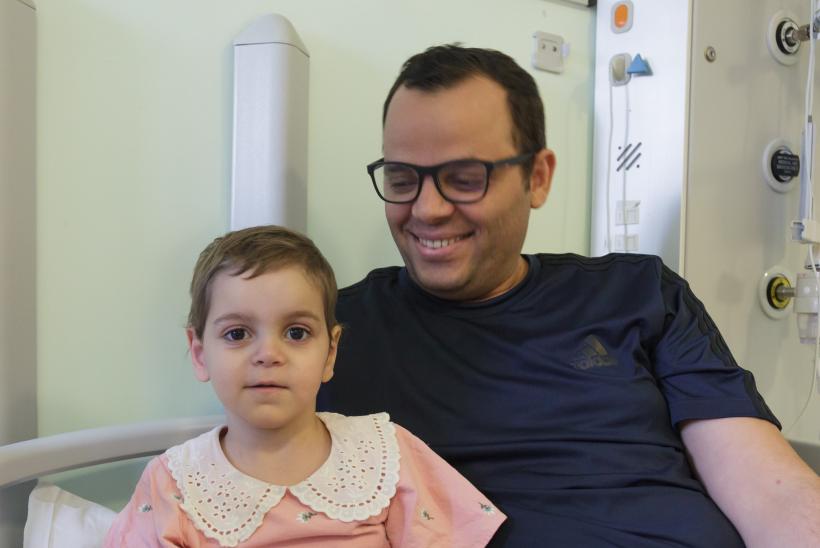 We thank Lulu's family in allowing us to share her story to the world.
If you would like to read more about Lulu and her family's journey, check out the Gulf News article here.