There has always been something magical about Salem ever since he was born in Kuwait 14 years ago. A big thinker and a fantasist, Salem has always been able to keep a positive outlook on life, even when diagnosed with Acute Lymphoblastic Leukaemia at a young age.
It was during Salem's time at Great Ormond Street Hospital for Children (GOSH) in London during his Bone Marrow Transplant (BMT) where the first glimpses of his superhero alter-ego 'SaMagic' came to life. Inspired by all things magical, Salem wanted to take his wizardry powers one step further and this is where the pensive and intelligent 'SaMagic' was born.
With a simple flick of his magic wand, SaMagic can summon spectacular spells to defeat negative energies, as well as teleport in and out of different mystic realms. However, SaMagic doesn't just rely on his wand for power: he knows that true power comes from within. His self-belief makes him an incredibly powerful wizard who can channel his positive energy and bravery into unbelievable magic.
"I love Superhope and I was so excited and amazed!" says Salem. "It was beyond my expectation and the team was so professional. They made me feel like a real celebrity and superstar! My clothes are so pretty, people are so nice and I like the music! The whole atmosphere encouraged me a lot. I felt so entertained on that day."
Lindsey Young Bone Marrow Transplant Clinical Nurse Specialist at GOSH nominated Salem to take part in Superhope. "Salem has had a really long medical journey at GOSH starting in 2013 and culminating in BMT in 2017. I nominated Salem to take part in Superhope as thought this would give him a chance to do something non-medical and really immerse himself back into normal childhood play. I was really excited to see what he had come up with and knew he would gain so much from the experience."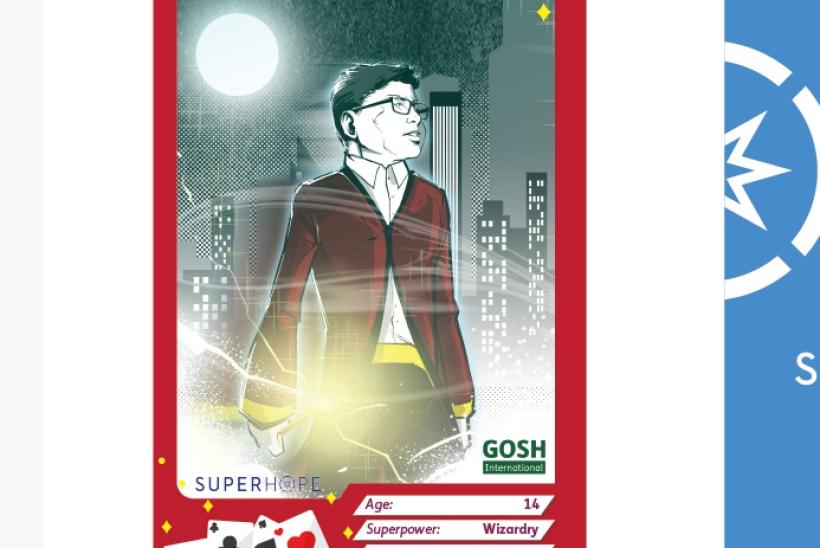 SuperhopexGOSH
Superhope aims to have a positive impact on the journey of GOSH families from the Middle East by transforming children into superheroes and showing them first-hand the real power of imagination. At GOSH, we strive to create a fun and caring environment where children can bring to life their inner superhero.