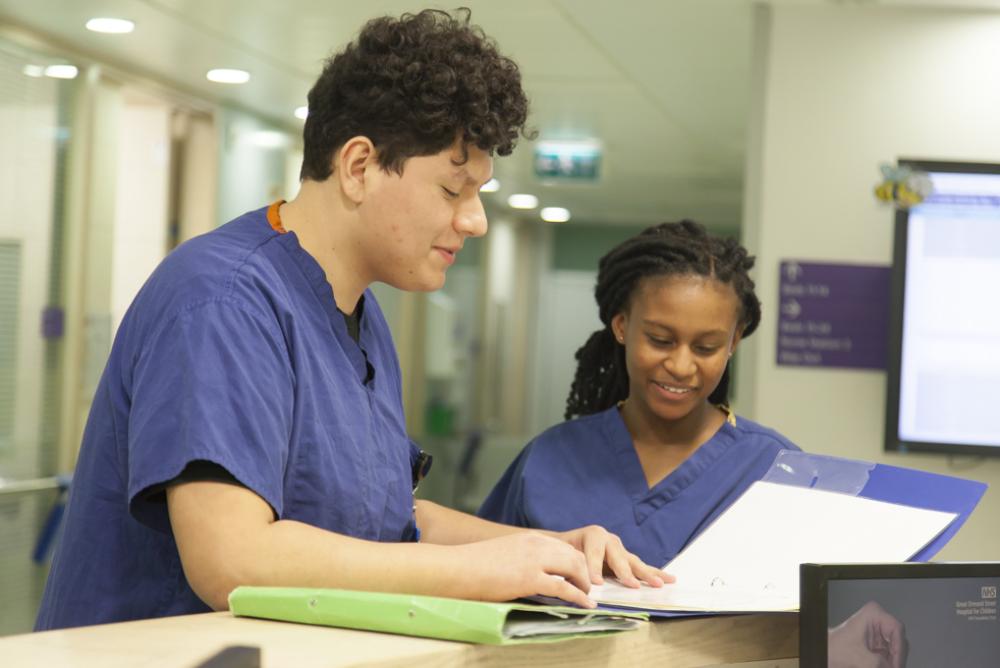 Great Ormond Street Hospital (GOSH) employs over 1,300 registered nurses who, as a valued part of the multidisciplinary team, play a hugely important role in delivering our world-class care. Being a nurse at GOSH will enable you to develop an impressive repertoire of expertise and clinical skills.  
The GOSH structure, support and learning opportunities enable competence, capability and confidence. It means we are able to enthusiastically provide quality care that meets the individual, ongoing, and frequently complex needs of the children, young people and families who need us.  
We are aspiring to global leadership in children's nursing: striving for continuous improvement in quality of care, capitalising on technology, and aiming to always provide a positive experience of care that exceeds expectations. We are building nursery research capacity, championing children and young people's health wellbeing and care and demonstrating excellent nursing care. We aspire to be a world-class employer, including by leading the way in children's nursing education. 
Nursing within the International and Private Patients Service (IPP)  
IPP is a state-of-the-art unit where we care for children who require specialist treatments usually unavailable in their own country. The majority of our inpatients come from outside the UK and are sponsored by their home governments, the rest are funded through insurance, charities or are self-paying. Last year we treated over 5,000 patients from more than 80 countries. 
Our patient mix means that within our three wards and outpatients department you will experience a wide breadth of specialisms and different cultures. IPP offers you an opportunity to be involved in a vast array of treatment and care interventions, which coupled with our in-house education team, will provide you with an impressive repertoire of expertise and clinical skills.  
Learn more from Claudia, Matron. 
Nurse education 
Through world-class education programmes, we will help you develop your specialist knowledge and skills so you can create a better future for seriously ill children every day. At GOSH, we tailor our nurse education programmes to ensure that each nurse at every level gets the support and training they need. IPP has its own Educational Team consisting of a nurse practice educator and two clinical support nurses, who cover all clinical areas within IPP and have strong links with GOSH's wider education team.  
We will support you throughout your time in IPP by offering opportunities to further your skills, competencies and education. Every new nurse to IPP is provided with a local induction which includes sessions that are IPP focused, such as a culture and diversity session. The team can also offer you an exclusive opportunity to attend an Arabic Culture Study Day in collaboration with The School of Oriental and African Studies (SOAS).  
GOSH is committed to supporting the ambition and career development of its nurses and in collaboration with London Southbank University (LSBU), provides a range of opportunities for continuing education and career development as a postgraduate nurse.  
Nurses at GOSH have access to a variety of programmes and academic pathways designed to enhance their knowledge, skills and expertise. As well as band 6 and 7 development programmes we also offer a matron development programme and leadership coaching.  
All of our nurses also benefit from a dedicated clinical simulation centre with various programmes to provide exposure, experience and clinical practice with a range of nursing skills and clinical scenarios. 
Newly-registered nurses at GOSH benefit from a unique, three-year education pathway, approved by Health Education England (HEE), that is specifically designed to support their continued clinical development and enhance their workplace wellbeing. 
Newly registered nurses
We offer a 12-month preceptorship and band 5 development programme alongside home groups, a dedicated team of newly-registered nurses practice facilitators and a general rotation programme. For more information on this please see here.  
Read more about the preceptorship programme from Elizabeth.